- Advertisement -

We present the 7 best cannabis applications for mobile and tablet. You will find everything from cannabis cultivation management applications, to cannabis apps to order from specialised stores that sell cannabis products or mobile cannabis games applications.
Table of Contents
7 best marijuana applications for mobile or tablet
The Cannabipedia
The cannabipedia or  how to self-cultivate cannabis step by step  is the personal project of the blog cultivating medicine. The App Cannabipedia arises as a need to share knowledge, trials and tests to carry out the best cannabis self-cultivation, especially for those who need medical cannabis to achieve a dignified quality of life like Toni13, its author.
It includes a complete cannabis cultivation guide so that at any time you can consult mini cultivation guides, the best cultivation products , marijuana varieties, cannabis cuisine, indoor and outdoor cultivation, cannabis alphabet … It is the most complete marijuana cultivation guide from Internet.
Leafy
Leafy is an essential marijuana app for your Smartphone. It is very common to find it in the devices of lovers of cannabis cultivation. With a visual and intuitive design we can take a look at the latest varieties of cannabis, explore the dispensary closest to our location or be informed of the latest news from the cannabis world.
Users have the option to rate and rate cannabis strains, dispensaries, cannabis recipes, and other cannabis-based products. Patients, recreational users, and growers rate and write strain reviews, grow-shops, and helpful information on cannabis growing requirements or medical indications.
Find it for free in the Android and iOS Stores.
Eaze
Eaze is a very simple cannabis applications that allows you to order from cannabis stores and then track the order status. Following the Lyft or Uber format, you will follow the driver to your door with packages of flowers, extracts, cannabis edibles, or any premium product to meet your medical marijuana needs.
In addition, Eaze can connect you with a doctor to prescribe the cannabis medicines you need. It will also help you to get the medical marijuana card if you do not have it. Get your medical cannabis products without leaving home. It is very useful to have Eaze to obtain medical cannabis, especially for patients with mobility problems.
At the moment Eaze is only available in the US, but we will be very attentive.
Leaf
A very sophisticated cannabis grow management app . It comes with a grow box. The cultivation box or cultivation cabinet has separate costs, however, it is estimated that with two medicinal crops you cover the investment. The grow tent is fully automated and you can control it through your mobile.
cannabis is grown in a fully automated way: gift of the cannabis plant, exposure to light, temperature control, humidity, and even automation for nutrients. It has a filter to control the smell of the plant, in a drying way that also cures the buds. It is the ultimate system for cannabis growers.
It is a very new and innovative marijuana growing product, so it requires appropriate reviews. It is possible that this grow product will become a true technology revolution for self-cultivation of cannabis at home.
Another application management growing cannabis with grow boxes is Grobo. It allows an automated cultivation through the Smartphone.
WeedMaps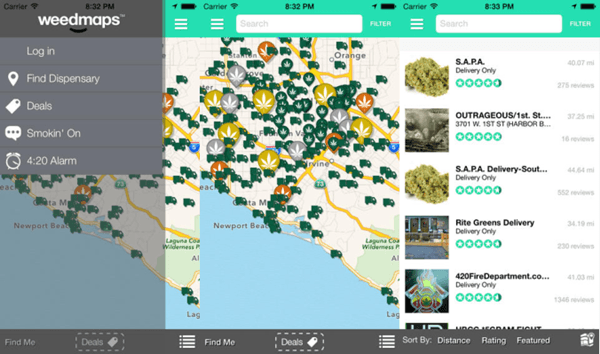 WeedMaps is a cannabis application that, since its creation in 2008, has not stopped growing. Its objective is to serve the largest number of specialists and companies in the cannabis sector.
The first time the app is accessed, you share your location. Then it will show you the growshops or nearby locations to buy cannabis or medicines made with cannabis. Search based on location, cannabis products, brands, and more.
In addition, it allows you to find nearby offers and connect on the network with people related to cannabis. There is exclusive content, including cannabis documentaries and even his television channel WeedMaps.
WeedMaps is available for Android and iOS for free .
Grow buddy
Grow Buddy is one of the cannabis applications specialised in the management and organisation of the cultivation. This cannabis app helps with the organisational side of cannabis crops . It helps to record and analyse the basic data collected from the cultivation of cannabis in order to monitor the growth of the cannabis plant and its needs.
Grow Buddy allows you to create graphs based on the information provided by the user. Analyse information on pH, water levels or nutrients.
It's a cannabis growing app that can be a bit difficult for beginners to the art of growing.
It is one of the free cannabis applications, available for Android and iOS. There is a version for Tablet optimised for use.
High There!
One of the cannabis apps that takes cannabis social media to the next level. It's basically the Tinder for cannabis lovers. Gather people with similar tastes to share moments and experiences together.
At the moment it is only available in the United States, but we will not lose our eye!
The 3 applications of cannabis games for mobile
SimLeaf
SimLeaf is a cannabis game for mobile that works like Tamagotchi, only it is much more than that, it is a very complete cannabis growing simulation application. You can choose the variety of cannabis to grow, the 1000W or 600W lamp or adjust the pH regimen, nutrients and much more to make a perfect cannabis grow.
The user has to take care of the needs of the cannabis plant. If you don't take good care of her, she will die just like the Tamagotchi did. But if the care of the cannabis plant is optimal, simLeaf will reward you with a virtual harvest. It is one of the cannabis applications focused on games, perfect for learning how to grow cannabis while having fun.
Hemp Inc
Hemp Inc is an app Thu go cannabis mobile very entertaining that we love. Its goal is to accelerate the legalisation of cannabis and marijuana. Hemp Inc is very proactive in promoting the Normal Cannabis activist group.
It works much like the popular Farmville App. It's fun, not tedious, and it hooks you from the get-go. It features famous personalities from the cannabis world such as Jimi Hendrix, Snoop Dogg, B-Real from Cypress Hill, and Tommy Chong. The player can interact with them and even sell them weed!
Build and manage your cannabis empire. Grow and sell the twenty varieties available, buy properties, expand your business and much more!
Hemp Inc is available on Android and iOS for free.
How about trying the marijuana game Hemp Inc? We recommend it to have fun times.
WeedFirm, the game of growing cannabis
Another entertaining game to grow marijuana on mobile is WeedFirm. It is an RPG that has already accumulated more than a million downloads. This cannabis App immerses the user in an interactive experience where he becomes Ted Growing. A fundamental part of the game is running a cannabis store.
- Advertisement -