- Advertisement -

The versatility of cannabis is indisputable even by those who do not love this plant. This time we are going to explain the recipe for cannabis butter, it is very simple and can be used almost in any dessert.
It is not necessary to remember that we do not all have the same tolerance to cannabis, it is an important thing when we do not cook just for ourselves (for a group of friends, for example), and another thing to keep in mind is that all the people who go To participate in these cannabis bread, cookies, cake, or whatever, they must be aware that our butter is "magic".
Verify that everyone is 18 years old or the legal adult age of each country so as not to face possible problems. Otherwise, you will already know that they can accuse you of intoxication or something more serious, think about it before being funny, with this you can have a good time but another person can have a real nightmare, this is serious.
Once notified, I will consider that we are going to have a good time in the kitchen and have fun with this recipe, and cooking with marijuana that we can then use to make cakes, cookies, etc. In these first pictures, you can see all the ingredients that are going to be used. Not only are we going to make marijuana butter, but we're also going to make it coloured, psychotropic, right? This last part will be ideal if your cannabis butter recipe is destined for a party with friends.
Table of Contents
cannabis butter ingredients
Stick butter
Food colouring for confectionery of different colours
Fine marijuana manicure
Water dipper
Sugar
3 tea filters
As you can see, I do not weigh the marijuana, I put 2 tea filters of 40 millimetres and another of 50 millimetres, I fill them with cannabis manicure cleaning the edge of the filter when closing it so as not to have loose leaves that when consuming it could be uncomfortable. The water is brought to a boil and with it we begin to make 3 peculiar butters.
Types of Cannabis Butter & How to Make Them
Blue cannabis Butter Recipe
We will call this butter ligth:
250 grams of butter
125 grams of sugar
3 or two filters with manicure, but without passing us
Blue food coloring
The power of the ceramic hob or the kitchen fire becomes strong at first, until the water boils it is not advisable to put the filters with the cannabis. Once the saucepan is boiling, reduce the power to medium-low for around 20 minutes with the cannabis inside (this part is almost as if you were making an infusion), which boils very softly. In the final stretch of the indicated time we add the sugar and stir. The sugar will actually be absorbed when you are cooling the butter, it will give it a sweet touch, but the vast majority of the sugar will be lost in cooking.
After this time we can add the butter and the blue coloring, with a small tube it is enough, it is necessary to stir from time to time so that the sugar does not stick to the bottom of the saucepan and the mixture is homogeneous. Once the block of butter is inside, we continue to simmer so as not to overflow the saucepan. Stir frequently.
After about 20 minutes over low heat, remove the saucepan from the heat and let it cool to room temperature, they can spend hours at rest but above all,  never put a burning or hot saucepan in the fridge,  remove the coffee filters when not burn too much and squeeze them with a spoon into the saucepan (it is where there is more substance).
Stir for the last time and leave in the saucepan for about five hours to rest, now you can put it in the fridge and wait at least another 5 hours until the butter is ready. The result is as shown in pic.
Red cannabis butter recipe
We will call this butter hard :
250 grams of stick butter
125 grams of sugar
3 stronger pressed tea filters, with more amount of manicure to make the effect greater
Red food coloring
This butter has the same production method as blue butter, we are simply going to leave the filters on the fire for 40 minutes, instead of 20, so that the liquid absorbs more substance from the 3 pressed cannabis manicure filters. Remember to drain them last to get the most juice out of them.
Green cannabis butter recipe
We will call this Jedi butter:
125 grams of butter
3 tea filters well pressed as in hard butter
Green food coloring
As you can see, this butter does not contain sugar and you have less amount of butter so it has less body, normally butter, it is made without sugar, I like that it is sweet and has more body for the pastries that we are going to make in the future. Jedi butter has the same load in tea filters as red and the same cook time as blue.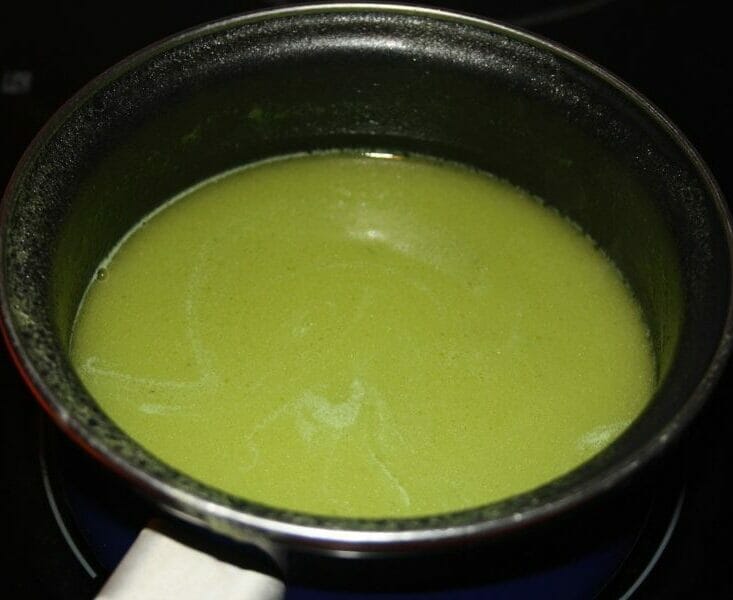 The result will be a butter only for Jedi, not suitable for people from the dark side of the force (remember the warning at the beginning, no jokes with this).
Depending on the pastry recipe that we make then it will be lowered in the future or normal butter will be added, let me explain:
If we are going to make a broth cake or a sponge cake, these do not have to have butter. Then we can put a piece of butter in the oil of the cake and dissolve it in it to make it uniform.
If, on the other hand, we make cookies with chocolate chips, the doses of butter are usually high. In this case it would be crazy to put all of our marijuana butter in them. A reduction should be made with normal butter, depending on our needs. Soon we will have different recipes on the blog, so you will know how to use this butter with Yoda's wisdom ahead. If you want to consume it spread on toast or directly as an accompaniment you can do it, but do it in moderation and step by step to know how each of the butters we have made suits you.
Finally, I leave you the raw result of the three butters fresh out of the fridge after hours of patience. The blue colouring is the one that has convinced me the least, and the red and green have been the ones that have best merged the ingredients.
Depending on the colourants and the amount of cannabis, the end result will be one or the other. The question is to go testing colourants and dosages to find the cannabis butter that we like the most in flavor, colour and shape for each one of us.
- Advertisement -